W7 is presenting new Mette Fixer Fixing Spray with new packaging in a small black bottle at 60ml with very reasonable price. It is a super-fine setting spray works to keep your skin looking glamorous, extend the wear of your makeup and keep your skin grease- and shine-free. The spray helps prevent smudging and sets make-up in place and leaves a soft, glowing finish.
Features
Long-lasting formula and budget friendly
Compared to the previous 18 ml setting spray, this new spray quantity is 60ml and very reasonable price
Provide Dewy finish and smooth skin
No smudging and creasing
Give a moist appearance and shine-free
Control excess oil and sebum
Feeling refreshed and hydrate
Blurs pores instantly
Light weight and cruelty free
W7 The Matte Fixer Makeup Setting Spray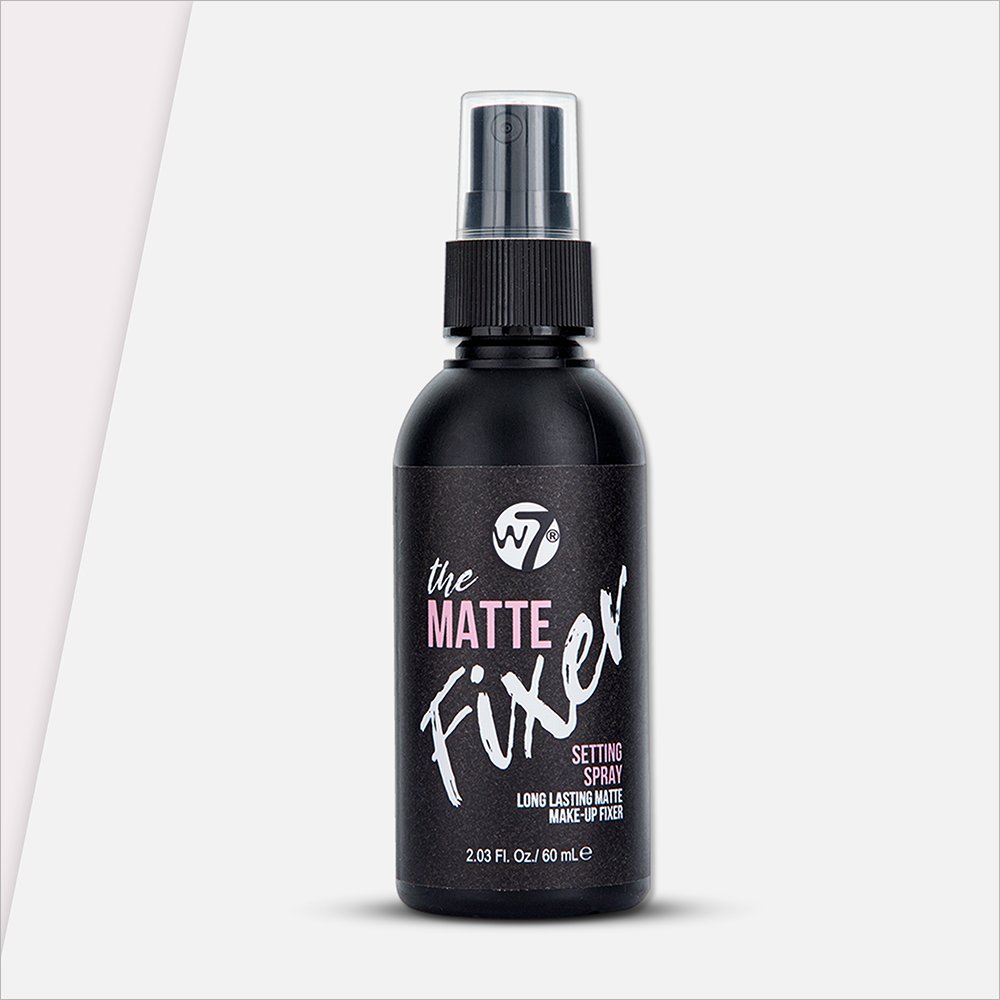 W7 Makeup Fixer is a good dewy finish setting spray will boost your luminosity, while leaving a poreless smooth face behind. With its long-lasting and light weight formula, this spray waterproof, sweat-proof, and transfer-proof, it helps prevent smudging and sets make-up in place and leaves a fresh, matte finish. If you used a cream foundation, setting powder, powder blush, eye shadow, liner and mascara were not waterproof, this spray did not make them runny.
If you have dry skin, you can use this setting spray to give the extra hydration boost you need for your skin. W7 lightweight spray controls shine, creates a matte finish, and lasts all through the day. Simply spray the product, and without extra shininess your skin will look as refreshed and smooth as ever within seconds.
This magic makeup fixer is not only for refreshing effect, they can also protect your makeup from smudging, creasing or fading quickly. This makeup setting spray designed to feels comfortable, a lovely cooling sensation, but it is also keeping your skin matte and hydrated, helps to control oiliness and looking more like natural skin.
Benefits
Makeup set for long time
Our W7 setting spray is to help prevent your makeup from smudging, creasing or fading quickly.
Control Oiliness
This setting spray control excess oil and give your skin matte finish.
Keep skin Hydrated
With an alcohol-free formula, continuous keeps our skin hydrated.
How To Use
Step – 1
After finish your makeup, then shake this bottle.
Step – 2
Hold the bottle about six to eight inches away from your face, spray in an X or T-Formation.
Step – 3
Wait for a minutes to let it dry.
Caution
For external use only. Keep out of reach of children. Always read instructions before use.