Our Collagen beauty soap infused with collagen, cleanses blemished skin, keeps our skin from sagging, giving us that plump, youthful look. This foaming soap is infused with antioxidant-rich collagen to detoxify the skin, minimizes the appearance of pores and leaves skin feeling clean, toned, refreshed and visibly clearer. A fluffy lather, it whisks away dirt, oil, leftover makeup and wakes up tired complexions and leaves you feeling fresh.
Features
Takes away all the dirt, excess oil and makeup
Provides skin moisturization and smoothness
Minimize the appearance of pores
Super refreshing and Soothes skin
Leave skin hydrated and restores skin elasticity
Balance the skin pH level
Softens dead skin cells and excess sebum
3W Clinic Collagen Beauty Soap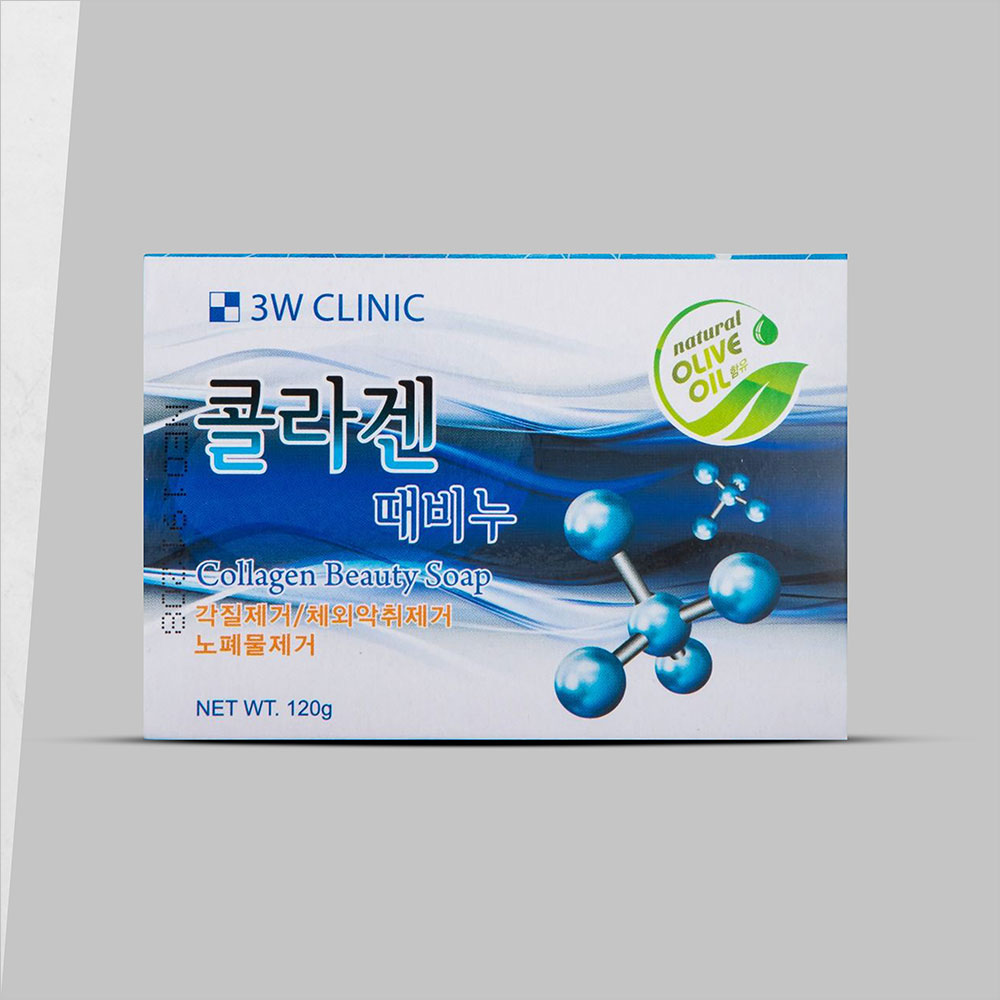 Collagen Beauty Soap from the catalog of the 3W CLINIC cosmetic brand is enriched with marine collagen and keeps the skin hydrated even after cleansing. This collagen soap can improve skin elasticity, reduce visible wrinkles, and increase blood flow to the skin. The product with vegetable oils, as it is anti-bacterial beauty product that cleanses the skin, helping to temporarily minimize the appearance of pores, create a smoother looking appearance and removes impurities from the skin pores.
A refreshing lather soap is enriched with marine collagen to help for treating acne because of its anti-inflammatory and antimicrobial properties, gently cleanses the skin, softens dead skin cells and excess sebum. The powerful combination of the active ingredients makes this product specially to calm redness, swelling, and inflammation.
With the help of bioactive components, draw out dirt and deep-clean your pores, restores skin elasticity, prolongs its youth and erases traces of aging from the integument, use daily for less shiny, mattified, visible clearer results.
How to use
Step – 1
At first wet your face with plenty of warm water.
Step – 2
Rub the soap directly onto a wash cloth or loofah and get a really good lather, then apply to your wet skin.
Step – 3
Rinse off with warm water and use a soft towel to pat your face dry.