Revuele Nail Therapy SOS Complex a professional intense care enriched with vitamins, Teflon and calcium which good treatment for moisturize our nails, gives strength, bleaches, accelerates their growth and protect from the harmful effects of household chemicals.
An active strong nail complex that penetrates nail structure, protects against cracking, breaking and splitting effectively regenerating and reconstructing our nail. Helps to restore smooth surface and glossy shine to damaged and matte nails.
As a result, you can get attractive healthy appearance and glossy shine if you use it regularly. Your nails will look beautiful, healthy and well groomed.
Its advanced formula can be used as a base manicure. It prevents the negative impact of color pigments and the penetration of the lacquer in the nail plate.
Features
Strengthen the nails
Deeply nourishes and moisturizes
Prevents breakage and fragility
Slow down the growth of nails
Peach oil and keratin are help to strong our nails
Treats nail dullness and unevenness
Nail's fungi and other infection are reduced
Leaving our nails stronger and healthier
Revuele Nail Therapy SOS Complex For Brittle & Broken Nails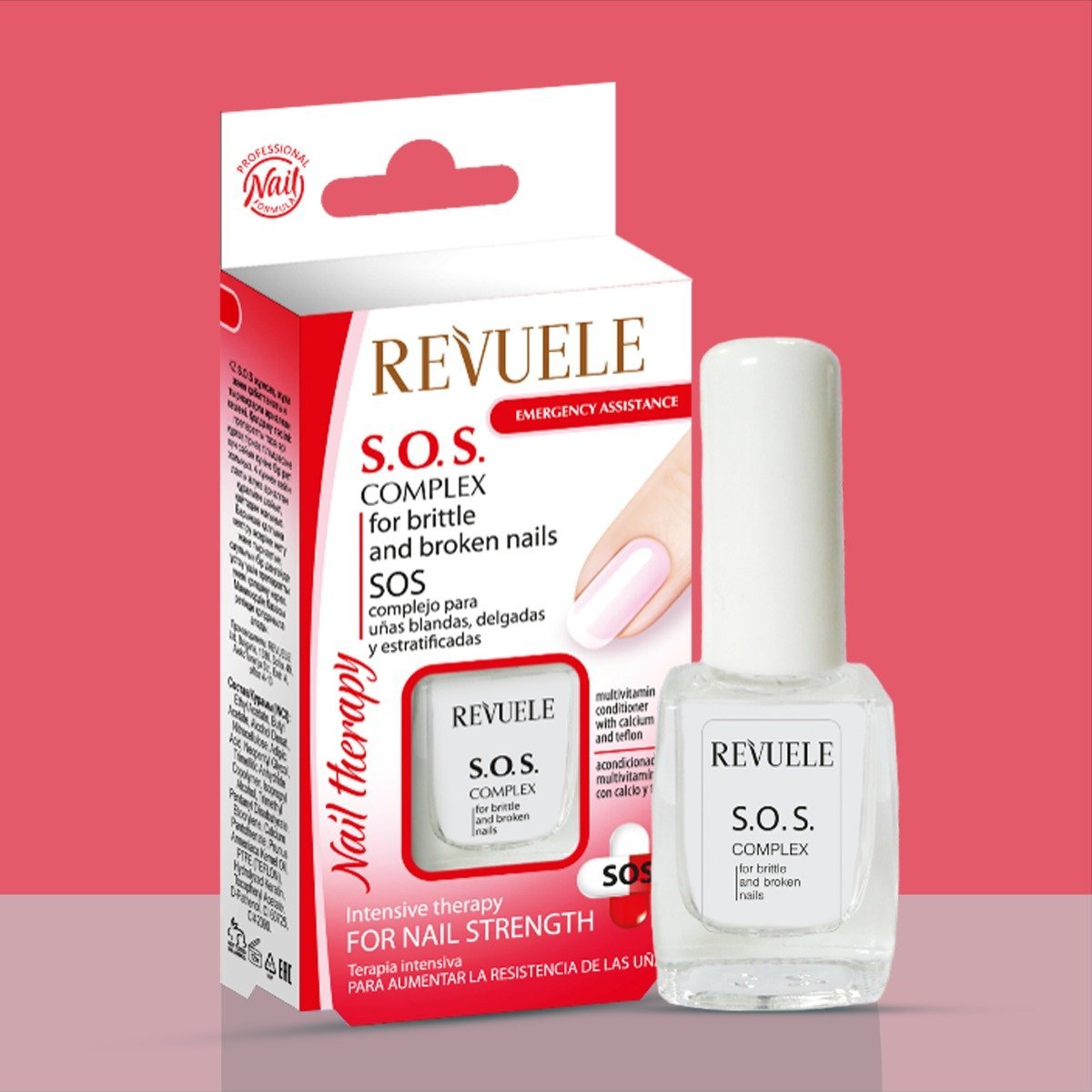 It revives the damaged structure and improves the appearance of weak, soft and stratified nails. The innovative formula of the preparation with peach oil and keratin deeply nourishes and moisturizes the nails, thereby hindering their stratification, the emergence of microcracks and damages.
Everyday our hands and feet are also exposed to a lot of dirt, moisture, and other pollutants that can build up under our nails damage and cause problems. If we use this Nail Therapy SOS Complex regularly, it removes dirt from under our nails and hard-to-reach places, thus keeping our nails strong and healthy. And also reduce chances of getting an infection of our nails.
It is important to keep our nails moisturized to prevent nails cuticles. Our REVUELE NAIL THERAPY SOS Complex collection was created specifically to take care of and restore our nails while providing them with the care and nourishment it need. Its active ingredients strengthen the nails in a way that prevents breakage and fragility.
How To Use
Step – 1
First of all, wash your hand and nail then pat your hand and nail dry.
Step – 2
Apply directly onto your nail. Next 2nd and 3rd day apply the next coat. 4th day remove the old coats with remover and repeat the treatment regular basis.
Step – 3
Don't rinse off after apply.
Ingredients
Ethyl Acetate, Butyl Acetate, Nitrocellulose, Adipic Acid (Neopentyl Glycol)Trimellitic Anhydride Copolymer, Acetyl Tributyl Citrate, Isopropyl Alcohol, Caprylic/Capric Triglyceride, N-Butyl Alcohol, Benzophenon-3, Calcium Pantothenate, Prunus Armeniaca Кernel Oil, PTFE ( Teflon ), Hydrolyzed Keratin, Hydrolyzed Collagen, Tocopheryl Acetate, Panthenol, Trymethylpentanediyl Dibenzoate, Pistacia Lenticus Gum, Polyvinyl Butyral, CI 60725.
*We are committed to innovation and periodically upgrade our formulations. Thus the ingredients lists shown here may vary from the product packaging.